Upon arriving to "Hale Mauka Makai" you are greeted with serenity and beauty. Gazing toward the mountains, you see the Majestic slopes of Haleakala Crater, "The World's Largest" dormant volcano. Looking toward the ocean, you have a panoramic view of the crystal clear waters of the Pacific. Why not admire the fabulous mountain view while relaxing by the pool or stroll through the gardens, picking fresh tropical flowers, fruit from the orchard and fresh organic produce from the vegetable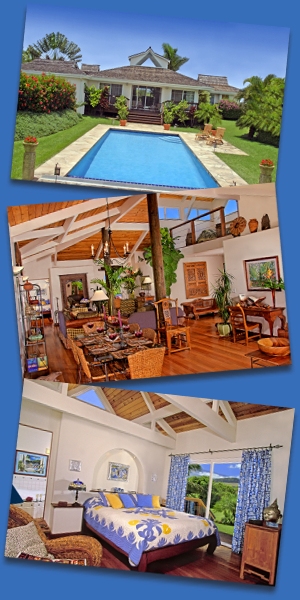 garden.
The home is decorated with an Asian and European influence with beautiful artwork throughout the home. The entryway leads into a spacious living area with inlayed hardwood floors. Furnishings are comfortable and contemporary, providing an atmosphere of tranquility and elegance.
"A chefs dream" is the best way to describe this custom gourmet kitchen. The design features elaborate finished cabinets, stainless steel appliances, a Jenn-Air Range, an espresso machine and many other amenities. The granite countertop and bar finish off the decor and provide an ample workspace for dining or entertaining.
The master bedroom is spacious and elegant with large closets for storing your clothes and other items. The bed is a custom built California King and positioned for an optimal view of the mountains. The master bathroom is equipped with an open glass block shower and features a Jacuzzi tub, which also provides magnificent ocean and mountain views. A private lanai is attached to the bedroom, giving you a perfect area for reading or just to have a peaceful moment.
The first guestroom is equipped with 2 twin beds, spacious closets and is adorned with artwork. The private bathroom features a shower and also has a Jacuzzi tub. Stepping out to the private lanai that is attached, gives you spectacular views of the slopes of Haleakala Crater.
The second guestroom is decorated with artwork and is equipped with a Queen size bed and a private bathroom. As with all the bedrooms of our home, this guestroom also features a private lanai with spectacular views.
Finishing off this wonderful home is the large covered lanai adjacent to the living area. It features comfortable teak patio furniture and a superior barbecue grill. The grass area is immense, providing a wonderful area for children to play, practicing your pitching wedge, or just admiring the tranquil waters of the Pacific Ocean, which provide a perfect backdrop.
A Comment from one of our guests:
"This beautiful home did not feel like a vacation rental to me. From the moment I stepped foot into the home, I truly felt comfortable and relaxed, I will definitely be back."